May is Mental Health Awareness Month. 
"You don't have to see the whole staircase to take the first step"- Dr. Martin Luther King Jr. 
Mental Health determines how you think, feel and act—if you are experiencing mental health problems then you may find that you are struggling to complete everyday tasks. Mental illness is more common than you would think, an estimated 1 in 5 adults in the United States experience mental illness. (NAMI)
Therapy is very beneficial to people who want to maintain their mental health. You will be able to live a more fulfilling life if your mind is as healthy as your body. Speaking with a mental health professional and seeking psychological assistance is not taboo-- it is the sign of a healthy person. The Program for Survivors of Torture encourages psycho-education for our clients so that they can overcome obstacles and learn to manage their traumas.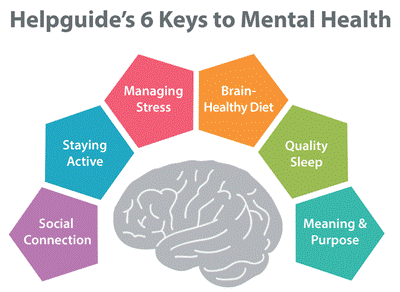 Mental Health Tips:
Take a self-care day. Do not overwork or stress yourself out to the point where you experience burn out. Take care of your mind and body—you will be far more productive in the long run if you take a day off to allow yourself rest and recovery.

Reach out to people you love and trust—let them know if you are not doing well.

List your achievements and small successes, and reflect on all you have to be grateful for.

Exercise your body and exercise your mind.

Write in a journal. Take 10 minutes out of your day to write down whatever you are feeling or thinking. This exercise will help you put your thoughts on paper, giving you an outlet for negative or positive emotions.

Get some sleep; rest is important so that your body can heal itself and store the necessary information that you have acquired throughout the day.

Meditate, draw, or write creatively. (Both art therapy and yoga have proven to greatly improve physical and mental health.)

Avoid self-medication—do not consume excessive amounts of alcohol or partake in recreational drugs.

Eat well. Staying healthy is important, ensure that you get the nutrients and vitamins that you need.

 Talk to a mental health professional. There is nothing wrong with seeking out help from a professional who knows safe and effective strategies to help you. A Psychologist, Licensed Social Worker or Psychiatrist can evaluate and assess your treatment plan and next steps.
Please reload